News
2021 Grad Gear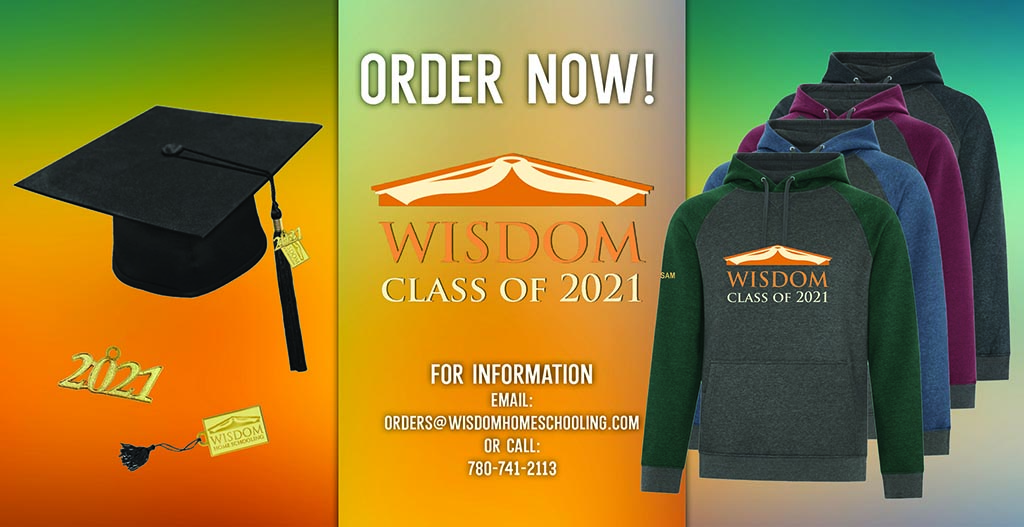 Grad tassels and hoodies now available for pre-order! Click here to order.
We also have printable lawn sign designs here!
Parent Portal
NEW! Use our Parent Portal to submit Notification for 2021-2022.
WISDOM's new Parent Portal will be launched this month through SchoolCloud, our Student Information System (SIS). SchoolCloud provides a secure environment to maintain student data and communicate necessary information to our Parents, Staff, Facilitators, and Alberta Education.
SchoolCloud does not work in the Internet Explorer browser. Be sure to choose another browser to open the login link.
Once you are in the Portal, you will have the opportunity to Create an Application for each of your returning students, add any new students that will be starting with WISDOM next year, and verify that your address and phone number are current.
Home School Gatherings
Thank you to all parents and home schooling advocates who have persisted in speaking up for what their children need; the Government of Alberta has recently made a change in COVID-19 restrictions in order to recognize home school cohort groups, allowing established groups and home school co-ops to gather for learning activities, physical education, etc.
Starting After September 30
WISDOM exists to support traditional (parent-directed) home schooling. Your family decides what is taught, how it is taught and when it is taught.
After the funding count date of September 30, not all schools make themselves available to un-funded students. What are your options?
Enroll with your resident school board. They are legally obligated to facilitate you if you provide them with Notification.
Notify directly with Alberta Education, using this form. There are no facilitator visits, no evaluations, and no funding, and the option is available year round.
Notify an associate board or associate private school. Some will accept mid-year transfers and some will not. Most will charge an enrollment fee.
The Gilbertine Institute supervises and supports home education programs under the banner of WISDOM Home Schooling. We will accept a limited number of mid-year transfers on a case-by-case basis. We do not charge a fee, but do appreciate those families who make a donation to help offset our costs.
To join us:
To submit documents, you may fax paperwork to 780-741-2204, email This email address is being protected from spambots. You need JavaScript enabled to view it. or use the Uploader found here.
Once we have received your notification we will contact you to verify that all has been received. We are happy to help you make the transition to home education with WISDOM.
All About WISDOM
Learn about WISDOM Home Schooling from someone who has been there from year one - first as a student, then an employee, a graduate and a home school mom.