By:

Levi Breederland
|
News
|
Join The Gilbertine Academy high school students for 10 sessions of Biology labs! Whether you're working toward Biology credits or want to have a solid understanding of labs, this is an excellent opportunity for your student.
Future plans! CALGARY 2022-23: Biology 20 & 30, 2023-24: Chemistry 20 & Chemistry 30, 2024-25: Physics 20 & 30, Repeat. EDMONTON 2023-24: Biology 20 & 30, 2024-25: Chemistry 20 & Chemistry 30, 2025-26: Physics 20 & 30, Repeat.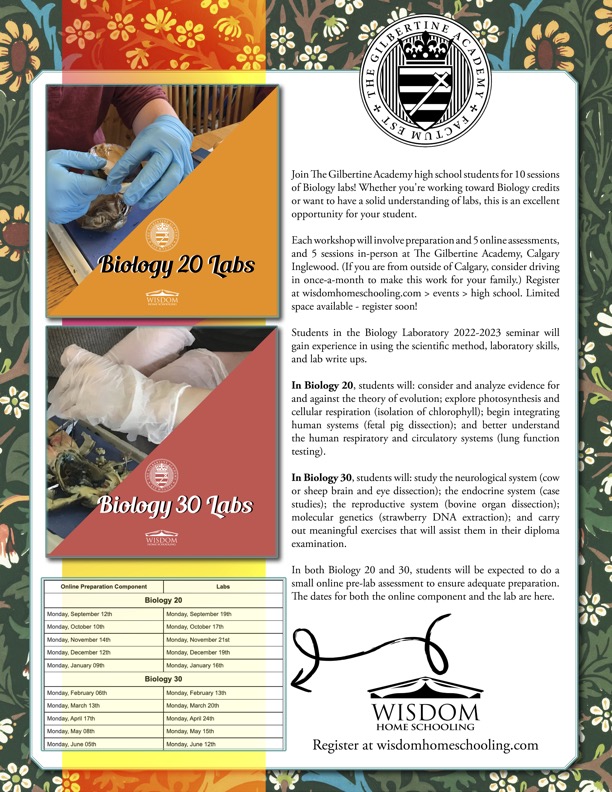 By:

Levi Breederland
|
News
|
Our Socratic Dialogue Online Program is ready to go for next year. The anticipated registration launch for the fall term of courses begins at 9am on Wednesday, May 11.
Some courses fill up quite quickly, so please look at the schedule now to choose your courses prior to registration launch. A Course Year Plan has also been provided for ease of long-term planning.
If your chosen course is full, please join the waiting list, as we will open additional sections as much as possible.
Tomorrow morning, click here to go to the course listing page (sorted by course type) and register from there.
Do feel free to reach to Nicole with any questions.